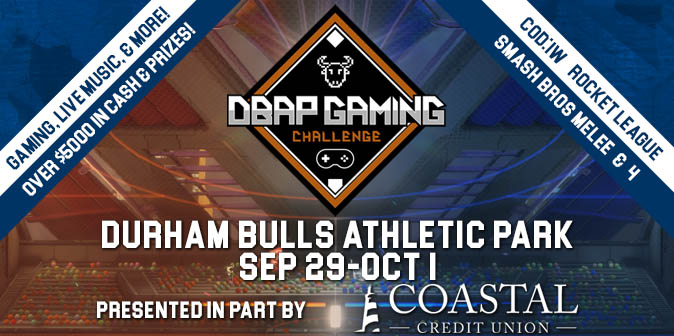 I bought a ticket, am I registered for the tournament?
Purchasing a ticket will put your name and number of entries into the registration system.  On the day of the tournament, priority will be given to those who purchased tickets earliest, and then to those with full teams.  Once a tournament maxes out (with alternates), the option will be closed on the ticketing website.
What equipment do I need to bring?
All equipment needed to participate in the tournament will be provided.  You are welcome to bring personal peripherals such as: controllers, mouse, keyboard, 144Hz monitor.  Modded devices are not allowed.
What is a VIP ticket mean & can I upgrade to it later?
The VIP ticket includes:
Access to VIP Lounge
Catered Food in the VIP Lounge
Custom VIP Badge
More to come!!!
You can upgrade ticket over the phone at a later date by contacting the Durham Bulls at 919.687.6500.
How do I register for tournaments?
You are given the option to register for tournaments during the ticket buying process on the ticket page.
Can I sign up for multiple tournaments?
During the ticket purchasing process you are given the option to sign up for multiple tournaments.  We urge you to sign up for 1 tournament to limit forfeiting of rounds due to overlapping tournaments.
Where are the tournaments happening?
The tournaments will be taking place inside of the Durham Bulls Athletic Park, with main stage behind home plate!
What is the event schedule?
The event will take place over 3 days, Friday September 29- Sunday October 1st.  The detailed schedule can be found here.
What is the entry fee into the tournaments?
As long as you have a ticket purchased to the DBAP Gaming Challege on the days of the tournament you are wanting to take part in, entry to a tournament is free!
What are the tournament format and rules?
Tournament rules will be posted here, as well as on the registration page soon.
Are you offering discounted hotel rates to guests of the event?