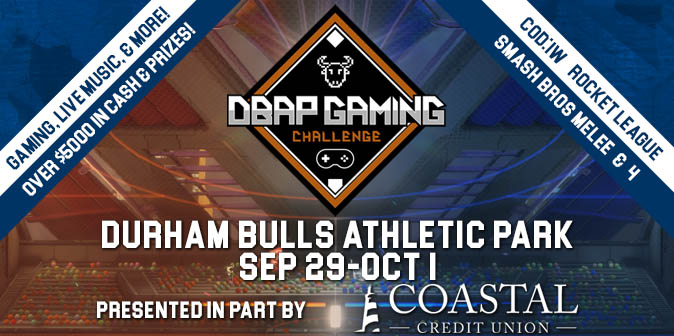 DBAP Gaming Challenge Coming to Durham
Durham Bulls Athletic Park to become first Minor League facility to host Esports event!
Durham Bulls Athletic Park will become the first Minor League Baseball facility to host an Esports tournament, when the inaugural DBAP Gaming Challenge takes place from Sept. 29 to Oct. 1 at the ballpark.
The three-day event will utilize much of the park's unique event space, including the PNC Triangle Club, party decks, dugout tops and the team's Blue Monster videoboard, which measures 63 feet wide by 25 feet tall. Additionally, the park's concessions will operate throughout the three days, as Friday's session will run from 4 p.m. to 10 p.m., Saturday's session from 11 a.m. to 10 p.m. and Sunday's session from 1 p.m. to 6 p.m.
"We're extremely excited to host the inaugural DBAP Gaming Challenge," Bulls General Manager Mike Birling said. "Esports is an industry that continues to grow at a rapid pace, and we're looking forward to beginning the DGC and making it an annual event in Durham at our stadium."
The event, presented in part by Coastal Credit Union and being run in association with the Carolina Games Summit, will feature a $5,000 pot across multiple tournaments. Over 15 games will be available for gameplay over the three-day span, including Super Smash Bros. Melee, Call of Duty, Halo 5, MLB The Show and Rocket League.
Tickets for the event begin at just $12, and gamers can find a full list of games/tournaments and ticket pricing at www.dbapgaming.com.